Hi Frens!l,
I HOPE you're all enjoying being outside and getting exercise. Get out there and enjoy a bike ride or a walk on a trail or through your neighborhood. I love exercise, especially chasing balls. That's cardio, right? Oof!
Guess what! I got a toy in the mail from one of my favorite hoomans, Cameron! Yep, I sure did. Cameron even sent me a letter and here I am with my new favorite toy. Thanks Cameron! BOOP!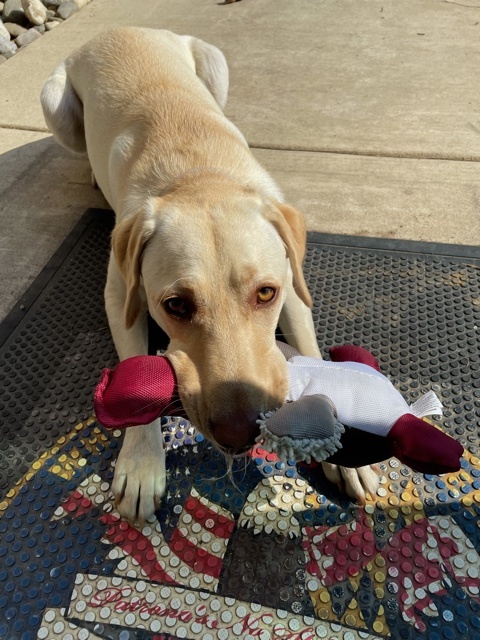 I know, I know…you want to hear some helpful tips so here we go – weeee!
I hear stories about everybody riding bikes, but I can't do that so send some pics to me at hope@wmvfc.org and I'll try to give you a shout out on one of our social media pages. You should give me boops when you see me or let me ride in your basket. Hehe!
Riding a bike looks so fun, but we have to remember it isn't a toy. I know, I know – to kids it's a toy, but they can be called a mode of transportation too. This is the bike I want! It even has a basket and it's pink! Oh my most favorite color! Oof!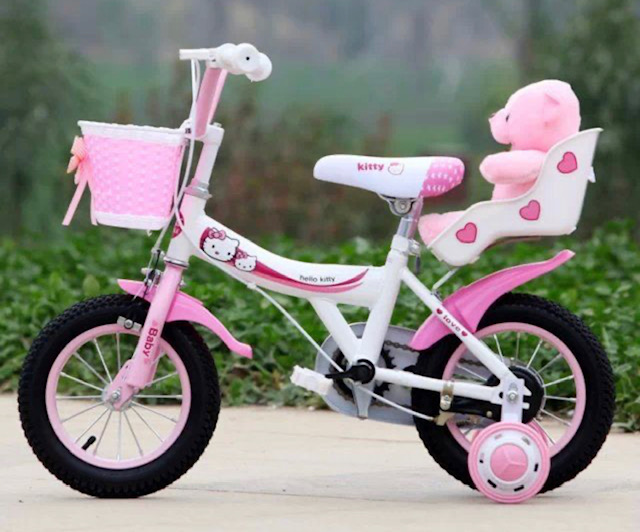 So, before you get on your bike and ride off into the sunset, my frens at the National Highway Traffic Safety Administration want you to be safe and so do I so here's some cool tips for you to remember:
Take a good look at your bike before you get on it. That's called inspection. Cool huh?
Make sure the brakes work and that all parts are secure and working properly.
Wear a helmet to protect your noggin and make sure it fits right or it's useless like the geese. Hehe!
Your seat height should be adjusted to allow a slight bend in the knee when you pedal. Bending knees is fun!
The handlebar height should be at the same height as the seat.
Wear bright color clothing so you can be seen. My favorite hoomans tell me they like to see me, but not hear me. Oof! Just cuz you can see a driver doesn't mean they can see you.
Always keep at least one hand on the handlebars. That means no tricks. I can do tricks so ask me for a paw or a high five!! Yay me!
Always watch for stuff in the road that could make you fall like rocks, puddles, slippery leaves, potholes and even other doggos or hoomans.
Make sure you have reflectors on the front and rear of your bicycle cuz it's the law. Riding at night can be dangerous, especially without those reflectors.
Always follow the rules of the road by going in the same direction as traffic and obeying all the signs. Pedestrians still get to go first so let them. Beep beep!
Stay alert by using your eyes and ears. Leave the ear buds at home.
Don't ride in between parked cars or close to parked cars. A door could open and BOOM! You done got knocked off your cool ride! Oof! Children less than 10 years old are better off riding on the sidewalk.
Most of all, come give me boops for being such a good girl and trying to help you stay safe. Boop!
While we are talking about helping you stay safe, don't forget hurricane season is almost here and we need to be prepared in case one comes to your area. We specially need to know what to do when there's flooding. Here's some tips that were blown my way for you. Get it? Blown my way – I punny! Oof!
Flooding can occur anywhere it rains! Be aware of your neighborhood's flood map and waterways, such as streams to understand what areas may be most likely to flood. The first step to being prepared is to understand the type of hazardous weather that can affect where you live and work. Always pay attention to the weather. It could save your life!
Make an evacuation plan in case of floods, build an emergency kit or update your existing kit, take inventory and keep important papers and valuables in a safe place, but also get involved in helping others prepare. Get your kids involved so they understand the dangers of flood waters too. I love kids! They give the goodest boops!
Floods are one of the most common hazards in the United States, but not all floods are alike. Some floods build up slowly, while others, such as flash floods, can develop in just a few minutes and without visible signs of rain.
If you're driving:
Do not attempt to drive through a flooded road. Six inches of water will reach the bottom of most cars causing loss of control and possible stalling. Yikes!
Two feet of rushing water can carry away most vehicles including SUVs and pick-ups. That's a strong current like the ocean. Oof!
You and the vehicle can be swept away quickly. If your vehicle is trapped in rapidly moving water, get out fast and seek refuge on the roof.
Do not drive around a barricade. They are there for your protection.
Be especially cautious driving at night when it is harder to recognize flood dangers. You can't always see puddles.
Do not camp or park your vehicle along streams, rivers or creeks, particularly during threatening conditions.
You can visit https://www.ready.gov/ for more information.
Guess what else! We have to watch for downed power lines and trees too during hurricanes or any storm. Those nasty winds can make anything fly or fall. Hold onto your hats and small kids!
Downed power lines could be live wires. That means they could shock you and hurt you really bad. Ouch!
If a power line is on your car, stay in your car. Let the firefighters get you out.
If the ground is really wet, trees could fall cuz their roots can't hang on to mud.
Never, ever stand under a tree or anything tall during a lightning storm. Go inside!
Close your windows and doors during storms to prevent drafts. Lightning likes drafts.
Stay away from electrical outlets.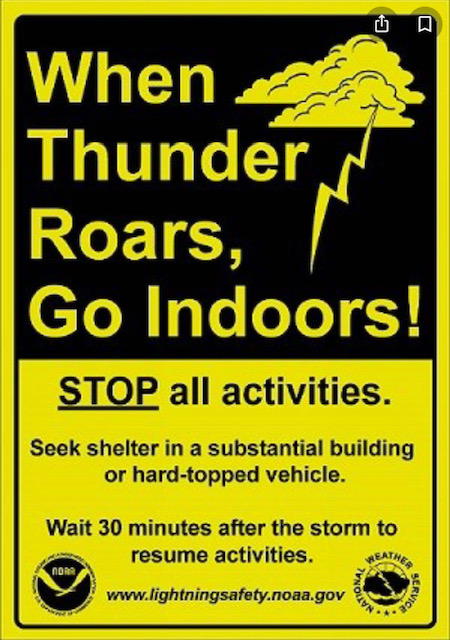 Don't forget about Food Truck Tuesdays every week 4pm-8pm with lots of food and live music. And me! Give me lots and lots of boops pleaz!
Also, remember we're having the raffle for the brand new 2021 Nissan Rogue and the Ultimate Ravens Fan experience.
Here's the link for the car raffle: https://wmvfc.rallyup.com/rogue/Campaign
And for the Ultimate Ravens Fan experience: https://wmvfc.rallyup.com/ravens/Campaign
Don't forget to follow us on social media too!
Can't wait to see you all Tuesday! Boops!
~ Hope the firehouse dog ~
Sign up for our newsletter to receive information about upcoming events at the White Marsh Volunteer Fire Company, messages from our station dog, Hope, and helpful fire safety tips.