Thank you to the following new station donors and supporters that helped us build on a legacy and protect our community!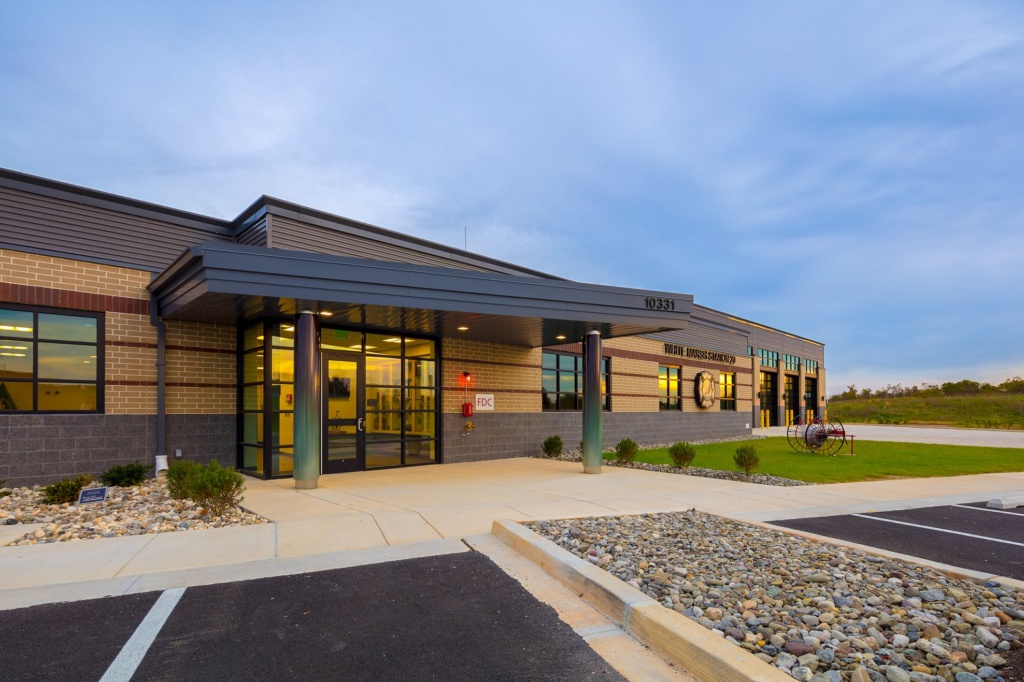 Land Donation by General Motors
WMVFC initiated its search for a suitable site for a new facility in 2012. A location was found adjacent to the General Motors Baltimore Operations plant located at 10301 Philadelphia Road, exactly one mile from the company's existing station.
The site on Philadelphia Rd, across from the intersection with Nottingham Ridge Road, was analyzed and determined to be an ideal location for a new station. The location is very near White Marsh Boulevard (MD Route 43), which allows for easy and quick access to major roads and all communities served by WMVFC. In addition, the CSX tracks are crossed by a bridge instead of a railroad crossing.
The leaders of WMVFC initiated discussions with GM in 2013, and on Feb. 4, 2016, 6.4 acres of land was graciously donated to WMVFC by GM.
The site provides adequate space for current and future needs of the station for years to come.
84 Lumber
Blue Helmet Sponsor
Accent Printers
Blue Helmet Sponsor
ACF Environmental
In Kind
Allstate Insurance Company
Blue Helmet Sponsor
Amrein Foods
Kitchen
Anonymous
Leadership Office
Anonymous
Training Tower
Anonymous
Conference Room
Anonymous
$30,000.00
Anonymous
$100,000.00
Baltimore County Business Association
Blue Helmet Sponsor
Board Chair Breach, Captain Blubaugh, President Palmer
Radio Room
Bobby's Portable Restrooms
$25,000.00 + In Kind
Bowerman Loreley Beach Community Association
Private Bunk Room
Brooks Ramsey Motors & RV
Blue Helmet Sponsor
Cargill Salt
White Helmet Sponsor
Charles Schultz
Blue Helmet Sponsor
Chesapeake Gateway Chamber of Commerce
Blue Helmet Sponsor
Classic Body and Fender
Blue Helmet Sponsor
Comeq
White Helmet Sponsor
David Madden
Blue Helmet Sponsor
Days Cove Reclamation Company
Study
Dennis Robinson Jr.
Red Helmet Sponsor
Dorothy Hinant
Blue Helmet Sponsor
Double T Diner White Marsh
White Helmet Sponsor
Family of Steve Babikow (in memoriam)
$7500.00
Fields at Perry Hall HOA
Ferguson Water Works
Blue Helmet Sponsor
First Home Mortgage
Red Helmet Sponsor
General Motors LLC
6 Acre Land Donation
General Motors Car Show
White Helmet Sponsor
Global Substation Services (GSS)
Blue Helmet Sponsor
Greenleigh
Semi-Private Bunkroom
JAC Communications
In Kind
Jack Amrhein
Red Helmet Sponsor
James Clements
White Helmet Sponsor
Jerry's Toyota
White Helmet Sponsor
J. Gibson Mcllvain Company
Gym
Joppa-Chapel Investments
White Helmet Sponsor
Lee Foundation Co
Blue Helmet Sponsor
Karen Thomas
White Helmet Sponsor
Kelvin Antill
Blue Helmet Sponsor
Koons Chevrolet White Marsh
Semi-Private Bunkroom
Mariann and Kevin Palmer Sr.
President's Office
Maryland Performance Specialties Car Show
Blue Helmet Sponsor
Maryland State Bond Bill
$225,000.00
Metro Bobcat Inc.
Blue Helmet Sponsor
Parker, Pallett, Slezak & Russell, LLC
Foyer
People's Bank
Blue Helmet Sponsor
Perry Hall White Marsh Business Association
Flag Court
Perry Hall Improvement Association
Peter Alan Terry
Blue Helmet Sponsor
Precision Concrete
Bunk Room
Republic Services
Private Bunk Room
Residential Capital Campaign
$30,000.00

Richardson Farms Craft Show


White Helmet Sponsor
Romadka Family
Captain's Office
Rosedale Federal Savings & Loan Association
Training Center
Royal Farms Corporation
Red Helmet Sponsor
Sierra Pacific Mortgage – White Marsh
Blue Helmet Sponsor
Silver-Top Manufacturing
Red Helmet Sponsor
Sleepy Hollow Community
Blue Helmet Sponsor
South Perry Hall Improvement Association
Blue Helmet Sponsor
Stephan Steinberg
Blue Helmet Sponsor
Tic Gums
Red Helmet Sponsor
Tom and Carol Forwood
Red Helmet Sponsor
White Marsh Retail LLC
White Marsh Board of Directors (Davidson and Davidson, Murphy, Fales, Montcalmo, Geppi)
$10,000.00
Wilmot Modular Structures
White Helmet Sponsor
Wirtz and Daughters
Private Bunk Room