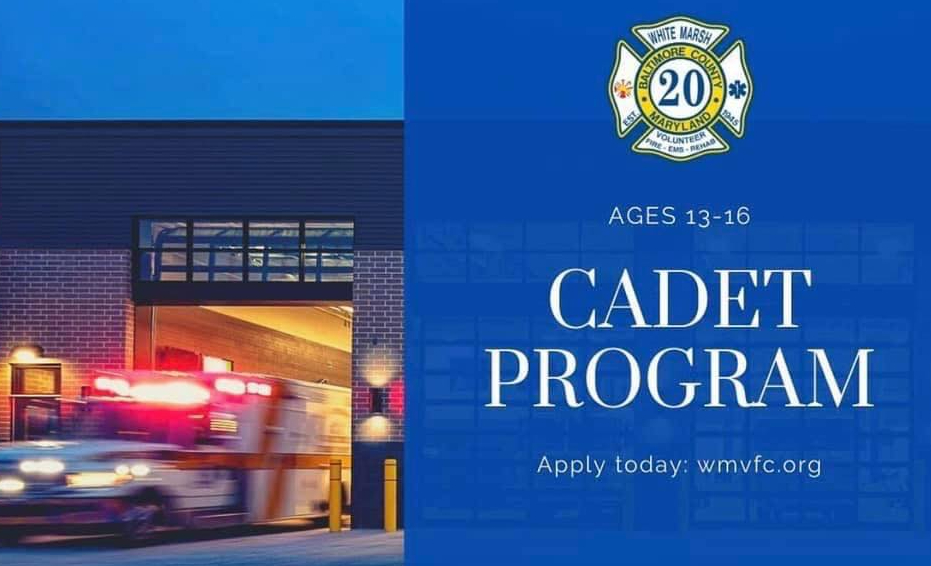 About the Cadet Program
The White Marsh Volunteer Fire Company Cadet Program is designed to allow interested youth, ages 13 – 15 a
first glimpse into the world of emergency services. The program is open to youth who reside in the 21162,
21128, 21236, 21237, 21220 zip codes. Our goal is to act as an introduction to the Fire Service for youth who
may be interested in becoming a Firefighter and or an Emergency Medical Technician.
For many, this Program will be the first step to a career in the fire service, whether that be volunteer or
career. I honestly believe that you as an active participant in this Program are the future of this fire company,
and a hero of tomorrow.
When people do not know where to turn for help, quite often their response is to call the local fire
department. They expect us to fix their emergency, or to at least make things better for them. Therefore, the
firefighter has traditionally performed many tasks other than just fighting actual fires and is held in high
esteem by many people. As a member of the Cadet Program, people will look to you as a representative of this
Fire Company. Therefore, it is important to follow the code of conduct and to be courteous and respectful to
all, especially when wearing your uniform.
As a new member of the Cadet Program, you will be required to participate in trainings, meetings, drills,
fundraising events, and station projects. There are also many other activities and opportunities available to
you that I hope you will take advantage of.
As a member of this company, we take a great deal of pride in it and the community that surrounds it. As a
member: strive for excellence; be the best that you can; be proud of what you are doing it for; promote
company pride by example; and most of all have fun and be safe.
Application Process

Interested youth should fill out the application and submit it via email to cadets@wmvfc.org or in person at
the station. The process we use is similar to what the Senior or Operational side of WMVFC uses.
1. Submit Application
2. Cadet Interview – Each prospective Cadet will be interviewed by the Cadet Advisor Cadre and a Cadet.
3. Submission of Current Report Card Each Cadet must maintain a 2.0 GPA in order to participate in the
program.
Meetings and Trainings
Meetings / Trainings are held on the 2nd and 4 th Thursday evening of every month from 7 p.m. until 9 p.m.,
unless otherwise stated. Typical meetings will have a classroom portion along with hands on training. Cadets
will also be expected to attend other functions of the WMVFC on other nights of the week as well and that
information will be passed out during the meeting portion.
The training program for the Cadets is structured to introduce the Cadets to the fire service. Cadet members
that join the regular department are at an advantage since the Cadet Program introduces them to the tools
and skills that are used in firefighting and emergency medical services (EMS). During training, you will learn
about firefighting, EMS, the use of tools, and related skills. You will also learn how to work as a team and HAVE
FUN!
Quite often the training will include some physical or hands-on activity and/or lesson. At times, an educational
field trip may be substituted for the regularly scheduled training.
Cadets will learn about topics such as CPR/First Aid, how fire hydrant Operate, Fire Extinguishers, ladders,
how to use fire hose, search and rescue and many other fire service-related skills.
Should you have any questions regarding the program, please reach out to the Lead Cadet Advisor, Dave Hull
at cadets@wmvfc.org.